Mario Li
老哈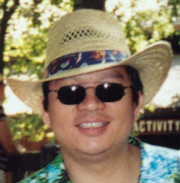 老哈,原名李小庆,1960年生于中国成都,现定居美国内华达,以读诗、译诗、写诗为人生趣事。
Poet and translator. Under Chinese pen name Laoha, he translates and writes poems both in English and Chinese. He was born in China in 1960 and now lives in Northern Nevada, USA.


译者
Translator
老哈
Mario Li




那些不知名的想法,
深深根植在我们的头脑里,
没有能够
形成语言的形式,
就在头顶上长了出来,
又长又结实。

有那么多,但我们
一点办法也没有,
只好把他们剪去,
然后扔掉。
			




Those unknown ideas 
rooted deep in our mind 
without forming 
into any language 
grow out on top of our heads, 
strong and long. 

There are so many 
of them, but too bad, 
we have to cut them and 
throw it away.