何丽明
Tammy Ho Lai-ming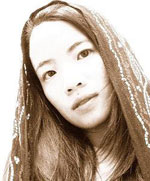 何丽明,生于香港。2006年主编《香港大学写作》(由香港大学英文系出版)。近年任美国《字沙律诗刊》编辑;她更与友人合办《茶:亚洲文学季刊》,创刊号于2007年11月在网上出版。现居香港。
Tammy Ho Lai-ming was born in Hong Kong. She is the editor of HKU Writing: An Anthology (March 2006), a co-editor of Word Salad Poetry Magazine and a co-founder of Cha: An Asian Literary Journal. She lives in Hong Kong.


译者
Translator
何丽明
Tammy Ho Lai-ming




我们看到祖母的时候,她
站在露台 背向着我们。
她的头发保留了银白的光感。
天气虽然很冷,
但她还穿着盛夏的衣裳。

我的妹妹轻声低语:"祖母
比在生时更瘦削啊."
终于我们看到她的脸庞。
我压抑着惶恐 不敢尖叫。
妹妹们跑出房间。

祖母的眼是两个空的
黑的洞。可她仍是能清楚看穿
我,就像从前一样。我把目光
投注在她的鼻子上。

她坐在她专用的皮的扶手椅,
跟我细说阴间的种种故事。"祖母,
我很挂念你。"她笑笑地承诺
会在梦中探望我,
好像现在的一刻。
			




My grandmother was standing on the
Balcony when we saw her. Back to us.
Her hair had retained its white aura.
Despite the cold weather,
She was wearing Summer clothes.

My sisters whispered, 'Granny looked
Thinner than when she was alive.'
Finally we saw her face. I suppressed
A cry of horror, my sisters ran
Out of the room.

My grandmother's eyes were
Black holes. But she could see
Me, like in the past. I registered
My eyes to her nose.

She sat on her leather armchair and
Told me stories from below. 'Granny
I miss you.' She smiled and promised
She would visit me in my dreams,
Which she did.