Christina Conrad
克里斯蒂娜-康纳德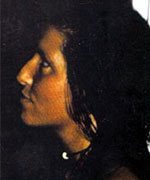 Conrad is an obsessive filmmaker, script editor, writer and "outsider" painter & sculptor. She lives in New Zealand.
新西兰诗人,剧作家,陶艺雕塑家,电影导演。在新西兰艺术史上极具影响力,现居住在悉尼。


译者
Translator
Isle Park
河川敷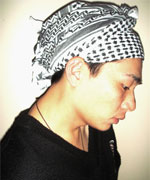 新西兰华人诗人,翻译,音乐人。新西兰首都诗歌电台节目"小鸟散满大地之树"(He Kaihua Ki Uta)的创办人。
Isle Park is a poet, musician and the maker of a poetry radio programme He Kaihua Ki Uta at Wellington Access radio New Zealand.




by lapping water I walked 
night  sky 
fallen white 
around me 

tortured feet treading 
black shadow 
I swallowed moon 
Small bright slip 
Of moon 
 in side me 

your voice  in my ear 
what colour is your 
sky 
black 
i  said 
black 
			




在泼溅的水边 我行走
夜空
坠落的白色
我周围

苦痛的双脚行走
于黑色的阴影
我吞咽的月亮
小小明亮的
月之泥釉
在我体内

你的声音 在我的耳边
你的天空是什么颜色的
黑色
我说
黑色