David Young
大卫-杨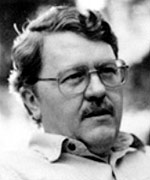 David Young was born in Davenport, Iowa, in 1936. He earned a B.A. from Carleton College, and an M.A. and Ph.D. from Yale University. He is the author of several collections of poetry. He has edited several anthologies, and has published several volumes of criticism and prose. His honors include fellowships from the Guggenheim Foundation, the National Endowment for the Arts, the National Endowment for the Humanities, and the Ohio Arts Council. Young has been Longman Professor of English at Oberlin College since 1986 since 1969. He lives in Oberlin, Ohio.
大卫-杨1936年生于爱荷华州。他在耶鲁大学获得博士学位。他出版过数本诗集并编过好几本诗选、评论选和散文选。曾获古根汉基金会以及国家艺术捐赠奖等多种奖项。他是欧柏林学院的英文教授,现居俄亥俄州欧柏林。


译者
Translator
Yidan Han
绿音

韩怡丹,笔名绿音。生于中国福建。著有诗集《临风而立》(1993)、《绿音诗选》(2004,中英双语)和《静静地飞翔》(2008)。主编《诗天空当代华语诗选,2005-2006》双语版(2007)和《诗天空当代美国诗选,2005-2008》双语版 (2009),并参与编著五本中国古诗文评点译析导读书籍。她是《诗天空》(Poetry Sky)双语季刊创始人及主编。其中英文诗散见于《诗刊》《创世纪》《普罗维登斯日报》《科罗拉多评论》等。她现居美国罗德岛州普罗维登斯。
Yidan Han is the author of three books of poetry, including Standing against the Wind (1993), Selected Poems of Green Voice (2004, bilingual), and Flying in Silence (2008). She is the editor of The PoetrySky Anthology of Contemporary Chinese Poetry, 2005-2006 (2007), The PoetrySky Anthology of Contemporary American Poetry 2005-2008 (2009), and a coauthor of five academic books that explore classical Chinese poetry. Her Chinese and English poems have appeared in various literary journals and anthologies in China, United States and other countries, including The Providence Journal, Colorado Review, and Shi Kan. She is the founder and editor-in-chief of Poetry Sky. She lives in Providence, Rhode Island.




You lived in bad times, 
Du Mu, and you
almost never complained.
 
What was your secret? 
Crabwise, I try to edge my way 
inside your life.
 
Someone 
just hurried 
through the village.

*

Out on the river, drifting,
the man becomes the river, 
the current full of thoughts.

*

Memories are bees;
at best, in season,
they have a hive to go to.

*

The ice is breaking up. The sun
is brilliant now, and light
spreads through the budding trees.

*

Bad times, good times, and the world goes on.
The heart rises, a large bird,
cruising in evening air. 
And the river moves through everything.

			




你生活在困苦的年代,
杜牧,而你
几乎从来没有抱怨。

你的秘密是什么?
小心翼翼地,我尝试从某个边缘
进入你的生活。

某人
正要匆匆
穿过村庄。

*

村庄外的河流之上,漂流,
这人变成了河流,
流水充满了思绪。

*

记忆是蜜蜂;
在其状态最好的季节里,
他们有一个蜂巢可归宿。

*

冰已碎。太阳
正辉煌,而光
正通过萌芽的树木扩散开来。

*

无论是困境或顺境,世界继续运转。
心情腾飞,一只大鹏鸟,
巡航在傍晚的微风中。
而河流缓缓地穿过一切。