星子安娜
Anna Yin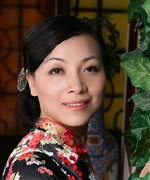 星子安娜,Anna Yin中国湖南出生。99年移民加拿大,其英文诗多次获奖,其中包括 2005 年安省的"Ted Plantos 纪念奖"和2010 年和2013年 的"Martry文学奖"。星子著有五本诗集,包括《Wings Toward Sunlight》(2011)以及《Inhaling the Silence》(2013)。星子是加拿大诗人联盟安省代表,她工作和居住在安省的密西沙加。
Anna Yin was born in China and immigrated to Canada in 1999. Anna won the 2005 Ted Plantos Memorial Award, the 2010 MARTY Award, etc. She has published five books of poetry. Collections of her poetry Wings Toward Sunlight was published by Mosaic Press in 2011 and Inhaling the Silence was published in 2013. Anna is Ontario representative for the League of Canadian Poets. She works and lives in Mississauga, Ontario.


译者
Translator
星子安娜
Anna Yin




月亮,我坠入了你的爱河。
看着你好似羞涩的艺术家
退回到夜幕里。
聆听着秋夜,你悄然
出来,手里拎着一个圆桶。

月亮,他们都已离去。
独留下你照看着
夜色里的长河。
多少年过去了?
你看着小小的村庄
成为漂浮的岛屿。
在行行的窗户之间,
黑夜流动,而我难以成寐。

我多想模仿李白,
依着他的长衫漫舞,
伴着燃烧的心轻唱。
每晚都来邀请你共饮。
美酒不会干涸,
而李白沉没在银色的河水中,
再也不见身影。

月亮,提起你的圆桶,
再一次出来吧,
我会安静得不弄出半点声响。
 			




I fall in love with you, Moon,
watching you step back like a timid artist
behind the curtain of evening.
Listening to the night,
you come out, lifting a pail.

Moon, they are gone.
They left you watching over the river.
How many years have passed?
You watch the small village
become a floating island.
Among rows of windows,
the night circulates, and I am wide awake.

How much I wish to imitate Li Po,
dancing freely with his white sleeves,
accompanied by a song from his burning heart,
night after night inviting you for a drink!
The wine never drains,
and yet he drowns in the silver river.

Moon, lift your bucket,
come out once more.
I won't make a sound.