麦城
Mai Cheng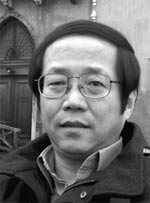 1962年生于辽宁沈阳。1982年从事诗歌创作。已出版中文诗集《麦城诗集》(中国作家出版社,2000)、《磁悬浮》(中国人民文学出版社,2005)。以及日文版麦城诗集。现居中国大连。
Mai Cheng, originally WangQiang, born in 1962. Started writing poetry since 1982. He has published three books of poetry including The Collected Poems of Maicheng, CiXuanFu and one Japanese version collection of poems. He lives in Dalian, China.


译者
Translator
Denis Mair
梅丹理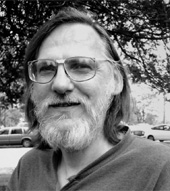 Poet and translator. He is a co-translator of Frontier Taiwan (Columbia). His book of poems Man Cut in Wood was published by Valley Contemporary Press in 2003. He has lectured on the I CHING at the Temple School of Poetry (Walla Walla).
诗人和中英文翻译。 曾翻译了很多中国现代诗人的作品介绍给美国的诗坛,曾任美国西北部诗刊《诗庙》的编辑。他是美国哥伦比亚大学出版社出版的有关台湾的"前沿"一书的翻译者之一。他还曾在《寺庙》创办的诗人学校里讲课。他的个人诗集《刻在木头里的人》2003年由美国当代山谷出版社出版。




深夜一点
在一张旧纸里
我听到一句比旧纸还要旧的话
我走向桌子
贴近那张旧纸
左看右看
纸里的人没有说话
甚至连说话的爷爷
也没看见
我气得把纸搓成一团
扔进纸筐
这时,纸筐里慢慢传来
刚刚说的那句话
我弯下腰,从纸筐里
把那张旧纸拿出来
撕了个粉碎
就在我把碎纸片扔出去的时候
那个人在碎里
又跟我说了一句话
兄弟,你看见过碎吗
你能把旧撕成碎吗
你能把碎撕成碎吗





Deep in the night
In an old sheet of paper
I heard words spoken, older than old paper
I walked over to the table
Leaned over that sheet of paper
Looked at it this way and that
No words from the man in the paper
Not even the grandfather of his words
Was being spoken
I crumpled the paper roughly
Threw it in the waste can
Which is when that same sentence
Rang out from the wastepaper
I bent at the waist, pulled that paper ball
Out of the waste can
Tore it up in little pieces
But no sooner had I thrown them back
Than that man in the pieces
Said something else to me
Brother, do you know about being in pieces?
Can you tear what's old into pieces?
Can you tear pieces into pieces?




                           
什么时候
能挎上原来的那只小筐
到最原来的地方
捡回最原来的事情

按照原来的动作
原来的想法
还原原来的意思
让一切一切
触及原来
到原来那里去





When can it happen?
I'll shoulder that basket from back then
And go where I went back then
Pick up some doings from back then 

According to my movements back then
A way of thinking from back then
Back to the point of things back then
Let everything and its brother
Get a touch of back then
Go where back then is





有一所学校的课本
印错了生存的方式
一代人的哭声
从此传来

地上有一枚零钱
钱里很多的人从零做起

道路,纷纷逃往一双布鞋
鞋,使我一步迈进真理





The textbook in a certain school
Misprinted some survival strategies
The sobbing of a generation
Is still heard after all this time

Small change was strewn on the ground
For many with money, the change started small   

Roads---in a flurry they flee to my cloth shoes
Shoes---in a single step they escort me into truth