谢茜
Xie Qian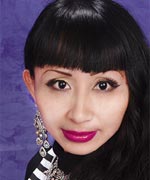 谢茜生于一九七五年,籍贯四川。1994年考入北京大学信息管理系,2001年进入北京矿业大学研究生院英语系英语语言文学专业学习。爱好写作,弹钢琴,拉小提琴等。现在美国从事汉语教学,居住于密歇根州。
Xie Qian was born in 1975 in the Sichuang Province. She studied at the Information Management Department of Beijing University and the English Language and Literature Department of the graduate school of the China University of Mining and Technology in Beijing. She enjoys writing, playing piano and painting. She is teaching the Chinese language in Michigan.


译者
Translator
谢茜
Xie Qian




是祭红色的一罐瓷器
是烟青色的一段丝巾
黑天的街灯
落入我回眸的眼睛
溅起温柔的小水花
荡一圈
浅浅细碎的涟漪

一只竹篮盛满   樱花
一只竹篮盛满   春日
一只竹篮盛满   昨夜
雪花一样盛开的
星星
			




A crimson porcelain pot.
A smoke-green silk scarf.
Street lights in the dark
fall into my eyes
as I look back,
softly splashing, tiny spray
quivering into shallow scattered ripples.

A bamboo basket full of cherry blossoms.
A bamboo basket brimming with spring days.
A bamboo basketful of stars
bloomed like snowflakes
last night.