古月
Gu Yue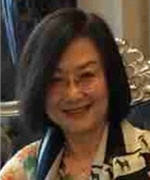 古月,台湾女诗人,本名胡玉衡,湖南衡山县人。台湾《葡萄园》诗刊编委,现为《创世纪》诗杂志同仁。着有诗集《追随太阳步伐的人》、绢印新诗《月之祭》、当代艺术家侧写散文集《诱惑者》、新诗集《我爱》等。诗作入选花城出版社《水仙的心情》和湖南文艺出版社《台湾女诗人三十家》。新诗集《探月:发现91个恋诗的理由》和《浮生》诗集是新的诗和画的结合。
Gu Yue (originally Hu Yuheng) is a Taiwan poetess who was born in Hengshan County, Hunan in China. She was an editor Vineyard Poetry in Taiwan, currently she works with Epoch Poetry Quarterly. She has published several poetry collections: The One Who Chases the Sun, Moon Festival, My Love and a collection of essays Seducer, etc. Her poems were included in The Mood of Narcissus and Poetry by Thirty Taiwan Poetesses. Her new collections: Lunar: Discovering 91 Reasons for Loving Poetry and Illusory Life are a combination of poetry and paintings.


译者
Translator
星子安娜
Anna Yin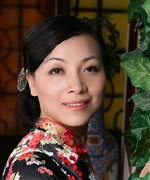 星子安娜,Anna Yin中国湖南出生。99年移民加拿大,其英文诗多次获奖,其中包括 2005 年安省的"Ted Plantos 纪念奖"和2010 年和2013年 的"Martry文学奖"。星子著有五本诗集,包括《Wings Toward Sunlight》(2011)以及《Inhaling the Silence》(2013)。星子是加拿大诗人联盟安省代表,她工作和居住在安省的密西沙加。
Anna Yin was born in China and immigrated to Canada in 1999. Anna won the 2005 Ted Plantos Memorial Award, the 2010 MARTY Award, etc. She has published five books of poetry. Collections of her poetry Wings Toward Sunlight was published by Mosaic Press in 2011 and Inhaling the Silence was published in 2013. Anna is Ontario representative for the League of Canadian Poets. She works and lives in Mississauga, Ontario.




把自己写进湿冷的诗里
却在你的河岸徜徉
欲描绘一座山的胸臆
测试春水躺在掌心的温度

故事未及布局情节 已滋长青苔
山不动我来 这就是岁月吗
河水悠悠 可承载情迷几许
在人生的长河中 且问
渡过谁的前世
又流向谁的今生
			




I pen myself into cold, damp poems,
wandering along your shore;
I long to paint the hearty mood of a mountain
and take the temperature of spring streams 
upheld in your palms.

Before the story develops its plot,
It has already grown green moss.
The mountain sits still; I arrive.
Is it true that one cannot keep seasons?
The river unhurriedly runs–
how deep can it carry a love?
In the river of our life, I ask
from whose preexistence I have crossed	
 into whose life I now flow.