Kateri Lanthier
卡特里-拉恩泽尔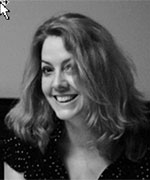 Kateri Lanthier holds a BA and MA in English from the University of Toronto. Her poetry and reviews have been published in journals in Canada, the United States and England, including Green Mountains Review, Great Lakes Review, Hazlitt, London Magazine, Leveler, Canadian Poetries, EVENT and The Fiddlehead. Her first collection is Reporting from Night (Iguana Books, 2011). She won the 2013 Walrus Poetry Prize for her poem "The Coin Under the Leftmost Sliding Cup," which was also included in The Best of Walrus Poetry and Best Canadian Poetry 2014.
卡特里-拉恩泽尔毕业于多伦多大学获英语学士和硕士学位。她的诗歌和评论发表在加拿大,美国和英国的期刊,其中包括《绿山评论》《大湖评论》《伦敦杂志》《加拿大诗歌》等。她的第一本诗集是《来自夜晚的报告》。她的诗获得了2013海象诗歌奖,被收录在最佳海象诗和2014最佳加拿大诗歌里。


译者
Translator
星子安娜
Anna Yin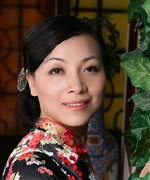 星子安娜,Anna Yin中国湖南出生。99年移民加拿大,其英文诗多次获奖,其中包括 2005 年安省的"Ted Plantos 纪念奖"和2010 年和2013年 的"Martry文学奖"。星子著有五本诗集,包括《Wings Toward Sunlight》(2011)以及《Inhaling the Silence》(2013)。星子是加拿大诗人联盟安省代表,她工作和居住在安省的密西沙加。
Anna Yin was born in China and immigrated to Canada in 1999. Anna won the 2005 Ted Plantos Memorial Award, the 2010 MARTY Award, etc. She has published five books of poetry. Collections of her poetry Wings Toward Sunlight was published by Mosaic Press in 2011 and Inhaling the Silence was published in 2013. Anna is Ontario representative for the League of Canadian Poets. She works and lives in Mississauga, Ontario.




Guanyin lamp left burning in a closed storefront. 
Light without mercy on your small right-hand finger, 
On your head and broken finger. 

Here's the boy, the girl, faces stroked by your robe. 
You're a hollow never filled 
And your face is serene. 

The "Cries of the World" unheard behind plate glass. 
Dust-streaked kitsch, you dream of sound. 
I dream of our rescue. 

All that's empty was once filled past the brim. 
The fountains unstoppable– 
Air, blood, song. 

If I could rub your cheek, place a finger on your brow, 
Find scrolled below the lotus the poems of — or —, 
Not a worker's lament. 

One of the numbered innumerable, faces lowered. 
Compassion cast in clay. 
The moon in tears. 
Blanched pomegranate at your feet. Fish mid-leap. 
Shipped by freighter, globe-poised Guanyin, unhearing… 
Unbury me. 

Walk me through the flames. We'll emerge soft and fearless 
With a thousand arms each 
And a mouth for every wound. 

We'll perch on chemical clouds, rolling dragon dust. 
Pain glazed from our lips. 
The planet run to extremes. 

An engine misfires. I rest my forehead on glass. 
Moth-hearted, lost in adulthood, 
Thirsty for light. 

All the cries of the world! Something to sell, swallow, sorrow. 
Your uncontrolled kindness 
Rains on the void.
			




在一个打烊的店面,观音灯燃烧着。 
在你的小右手指,头顶和碎裂的指头上, 
光亮不带怜悯。 

这儿是男孩,女孩,脸孔被你的长袍抚摸。 
你是永远充不满的空心, 
你的脸一片安详。 

"世上的叫卖声" 在平板玻璃后充耳不闻。 
防尘条纹的装点,声音成为梦想。 
我梦想我们的得救。 

曾经被充满着溢过边缘的一切现在空空。 
不断注满的喷泉——
空气,血液,歌声。 

如果我能擦拭你的脸颊,安放手指在你的额前, 
寻找涡卷在荷花下面的诗 —或 —
不是一个工匠的哀叹。 

无数中的一个,面孔朝下。 
将粘土铸成恻隐之心。 
月亮带着泪水。 
你的脚下石榴失色。鱼飞跃着。 
由货轮运送,环球镇静的观音,不闻不问…… 
发掘我。 

伴我走过火焰。我们会呈现轻柔无畏 
带着一千支臂膀 
一张嘴平服各处创伤。 

我们将栖息在冶炼云上,滚动着龙尘。 
疼痛彩釉我们的嘴唇。 
这行星走至极致。 

发动机失火。我将前额贴在玻璃上休憩。 
心像飞蛾,在成年后迷失, 
饥渴于光。 

世上所有的叫卖声!物品来出售,吞咽,哀泣。 
你失控的善良 
雨落在虚空上。