李永才
Li Yongcai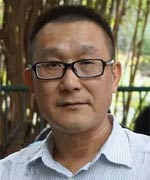 李永才,1966年生于重庆,中国作家协会会员。《星星》诗刊理事会理事。北京大学公共管理硕士。作品散见于《诗刊》《星星》《绿风》《中国诗歌》《诗选刊》等上百种刊物,作品在全国诗歌大赛中获得"大运河杯"特等奖,第四届"曦之杯"一等奖,"天佑德杯"优秀奖等多种奖项,并入选《中国年度诗歌选》《中国最佳诗歌》《中国优秀诗歌》等多种选本。出版诗集《故乡的方向》《城市器物》《空白的色彩》。
Li Yongcai, born in Chongqing,Sichuan in 1966, is a member of Chinese Writers' Association and a member of the Trustee Council of Star Semimonthly. He obtained his Master's degree in public administration from Beijing University. His works were published in a number of publications including Poetry Magazine, Star Semimonthly, Green Wind Bimonthly. His honors include the Top Prize of the "Grand Canal Cup" in the National Poetry Contest, the First Prize of the Fourth "Sunlight Cup", and the Award of Excellence of the "Tianyoude Cup". He has published three books of poetry, including The Direction of Hometown, Urban Objects, and Blank Color.


译者
Translator
李永才
Li Yongcai




牧放远了就成了故乡的乱草
被一小块废弃的时光,自言自语的穿越
秋天落魄至此 请看好你的影子
一些树木,和稗草

来自唐朝的书生
仍在寻找,经书落脚的地方
果实牧放南山
遗世的牧师在风中突然变了颜色

这些大有来头的影子
跑动起来带走匍匐在石阶上的灰
而我的目光半熏去哪里等待
竹篮打水的日子

透过黄昏,野径般的长发
仍可以看见
如入无人之境道路割开天空
灵魂游走锋刃
比汽车狂热的影子闪得更快
			




A far off farmland becomes the weeds of home.
I travel through a small piece of deserted time, murmuring.
In autumn my spirit falls. I wish to see your shadow 
Trees and barnyard grasses.

A scholar from the Tang dynasty
Is still searching for the scriptures.
On Mount South fruit trees grow.
In the wind, a secluded shepherd suddenly changes color.

These compelling shadows
Run and sweep the gray off stone steps.
But where can my semi-intoxicated eyes go to wait for
The days of no reward?

Through eventide and long hair like wild paths
I still see the sky 
Entering a road without man.
My spirit travels on a blade's edge
Faster than the shadow of a speeding car.