Susan Stewart
苏珊-斯图尔特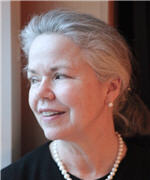 Poet and critic. Susan Stewart was born in 1952. She received a B.A. in English and anthropology from Dickinson College, an M.A. in poetics from Johns Hopkins University, and a Ph.D. in folklore from the University of Pennsylvania. She is the author of several collections of poetry, including Red Rover (2008), Columbarium (2003), The Forest (1995), The Hive (1987), and Yellow Stars and Ice (1981).
生于1952年,美国诗人与评论家。她从迪金森学院获得英语和人类学学士学位,约翰-霍普金斯大学诗学硕士,宾夕法尼亚大学民俗学博士。她出版的诗集有:《红色漫游者》(2008),《骨灰壁龛》(2003),《森林》(1995),《蜂巢》(1987)以及《黄色的星与冰》(1981)。


译者
Translator
王一笑
Wang Yixiao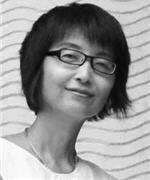 王一笑,英文名Ayin Wang,诗人,设计师,著有诗集《异岸之火》(2016)、《是时间在唱歌》(2011)、《走过就不会忘记》(2008)。
Wang Yixiao, another name is Ayin Wang. She is a poet and an art designer,she has published three books of poetry, including The Fire of the Strange Shores(2016), Singing of Time (2011) and Never Forget the Paths We've Taken. Her poems have appeared in various magazines, including Poetry Selected in China.

Each night I fall asleep
in honor of the dead, in honor
of the green-shooter irises.

Here in the small and enormous
cup of night, my sleep spills
Or something more familiar,
the bloodstains of the moon.

The train of the dead crawls from Rome
to Arezzo with the slow-witted
innocence of a child. The train
of the dead is naked, naked
without kerchiefs or flags.

I fall asleep in honor of the rain,
in honor of the restlessness of leaves,
and a great stirring passes
over the earth; it is the music
of our forgetting.

The train of the dead leaves
on Wednesdays and hardly
ever returns.

Sleepwalkers, pay attention to this 
sorrow, this honorable sorrow that
reads over my shoulder, that stands
in the shadow of every doorway
and seems to bear me no ill.

Where are the women who 
throw up their skirts, their
red slips, their happy blindfolds?

In the train of the dead there
is no dancing, no wealth
and no beginning.

I fall asleep in honor of the living
rain and my sleep winds through
the mountains of night like 
a terrible fugue of rivers.

It is the eyes that are swollen
at the end of sleep,
the bashful eyes against
the morning's striptease.

The train of the dead has a flute-
like whistle, a far whistle
and no silences.

If you open the windows in the train 
of the dead, the air rushes in
then out with alarm.
If you turn back a corner of the earth,
it will cover its face with its hands.

The way a bride turns and fusses
with her long net veil,
this train takes up
her tracks behind her.

Each night I fall
asleep in honor of the flower
girls who scatter
the green-shooted irises.

And since I sleep with nothing
in my hands, since I sleep
inside this human egg,
this nest of eggs inside me,

the bits of mud eclipsing
the half moons of my nails
eclipse each startled eye, each
dedicated sleep.


每夜我以睡眠
向死者致敬,向
鸢尾花复苏的绿枝致敬。

在黑夜那小而无边的
杯中,我的睡眠溢出
如乱发散落枕间。
或某样更平常的东西
月亮的血迹。

从罗马到阿雷佐,亡灵的火车
缓慢行进,带着
一种孩童般的懵懂。这死亡之车
裸无遮掩,没有
头巾或旗子。

我以睡眠向雨致敬,
向躁动不安的叶子致敬,
一阵巨大骚动
穿越大地;那是
我们的遗忘之曲。

亡灵的火车在星期三
离开,几乎
永不回来。

梦游者,留意这
悲恸,这可敬的悲恸
它审视我的肩膀,它站在
每道门廊的阴影中
并不烦扰我。

那些掀起衫裙、红色丝带
幸福眼罩的女人们
在哪里?

在亡灵的火车上
没有歌舞,没有财富
没有开端。

我以睡眠向鲜活的雨致敬
我的睡眠蜿蜒穿过
夜的山脉,像一曲
可怕的河流赋格。

那些眼睛浮肿于
睡眠将尽之际,
害羞的眼睛抵抗
清晨的脱衣舞。

亡灵的火车发出长笛般
哨音,辽远的哨音
打破寂静。

你若打开亡灵火车的
窗子,空气涌入
涌出,惊觉地。
你若转过一个大地弯角
它会以手掩面。

正如新娘转身
撩拨她长长的面纱,
这火车拾起
她身后的轨道。

每夜我以睡眠
向卖花少女致敬
她们播撒
鸢尾花复苏的新枝。

我入睡,手中空无一物
我睡在
人类这颗蛋中,
这一巣蛋,在我体内

一抔泥土
蚀黯我指甲的半月
蚀黯每只受惊之眼,每次
深沉睡眠。