梁尔源
Liang Eryuan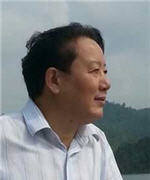 梁尔源,湖南省涟源市三甲乡人。中国作协会员,中国诗歌学会理事,湖南省作协全委会委员,湖南省诗歌学会会长。曾参加诗刋"第七届青春回眸诗会"。著有诗集《浣洗月亮》,曾在《诗刋》《人民文学》《民族文学》《十月》等刋物发表诗歌。
Liang Eryuan was a native of Hunan Province. He is the author of Washing the Moon. He has published poems in many poetry journals.


译者
Translator
舒丹丹
Shu Dandan

舒丹丹,诗人,译者。1972年生于湖南常德,现居广州。诗作见于多家刊物及诗歌选本,译有菲利普?拉金,雷蒙德-卡佛等欧美多家诗人,出版译诗集三部。曾获数种翻译奖和诗歌奖。
Shu Dandan, born in Changde, Hunan Province in1972, poet and translator. She is the translator of several Chinese translation edition of English poetry collections, including The Colleted poems of Philip Larkin and Raymond Carver. Her poems appeared in various poetry journals and anthologies. She is the winner of several translation awards and poetry award.




晚年的祖母总掩着那道木门
烧三柱香
摆几碟供果
闭目合掌,嘴中碎碎祷念
家人都知道祖母在和菩萨说话

那天,风儿扰事
咣当推一下
祖母没在意,咣当又推了一下
祖母仍心神不乱
咣当,推第三下的时候
祖母慢慢起身,挪动双腿
轻轻打开木门
见没人,沉默片刻
自言自语:"哦,原来是菩萨!"
			




In her later years, my grandmother always kept the wooden door shut,
Burned three sticks of incense,
Laid a few dishes of offerings,
With eyes closed and hands folded, she murmured in prayer.
All the family knew Grandma was talking with her Bodhisattva.

That day, the wind played a trick,
Slamming the door with a bang,
Grandma didn't care. And then came another bang,
Grandma still kept calm.
Until the third bang came,
Grandma got up slowly, dragged her legs,
And opened the door gently.
Seeing nobody, she kept silent for a while,
Said to herself, "Oh, it's Bodhisattva!"