星子安娜
Anna Yin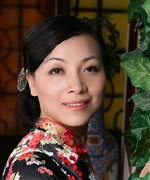 星子安娜是加拿大密西沙加市首任桂冠诗人,已出版六本诗集,英文诗荣获2005 年安省的TedPlantos纪念奖,2010/2014 MARTRY文学奖以及2016/2017年获西切斯特大学诗歌大会奖学金和安省艺术协会奖金。她的诗歌在Arc Poetry、《中国日报》、《世界日报》和CBC电台发表。她也在学校教授诗歌。
Anna Yin was Mississauga's Inaugural Poet Laureate and has authored six books of poetry, including Wings toward Sunlight and Seven Nights with the Chinese Zodiac. Anna won the 2005 Ted Plantos Memorial Award, two MARTY Awards etc. Her poems appeared in Arc Poetry, China Daily, World Journal and CBC Radio. She teaches Poetry Alive at schools in Canada.


译者
Translator
星子安娜
Anna Yin




当父亲重建这座房子, 
在每个梯阶上, 
他刻下他和母亲的名字。 
父亲不是一个迷信或富有的人, 
而我们都已长大,生活在很远的城市, 
他那高耸狭窄的四层建筑 
与我们对浪费不停息的批评一起挺立。 
父亲打破他的沉默, 
"找到自己的楼层,呆些日子吧。" 
他眨着眼睛看著我們, 
"至少无法出售。" 

父亲的智慧被城市规划彻底击败。 
工作人员带来推土机,并要求他离开。 
父亲爬上屋顶,拒绝搬迁。 
举起相机,父亲照下了他的最后一张 
留念-在一群被推倒的拆迁房之中。 

我收到一份当地报纸和照片的副本。 
在废墟上方,父亲看着如此渺小。 
标题很醒目:"最后的殿堂"。
			




When my father rebuilt his house,
on each stair he carved 
his and my mother's names. 
My father is not a superstitious or rich man,
with all of us grown up and living far away, 
his narrow tall four-floor building 
rose with our criticisms of its waste. 
My father rolled his eyeballs, broke his silence:
"Find your own floor and stay longer."
He winked at us,
"At least none would buy."
My father's wisdom was defeated by the city plan. 
Officers came along with bulldozers and demanded he leave. 
My father climbed up to the roof, and refused to move.
Holding his camera, my father shot his last photo
among the knocked down neighborhood.
I received a copy of the photo in the local newspaper.
My father looked so small on the top of the ruins,
It was titled, "The Last Temple."