三色堇
San Sejin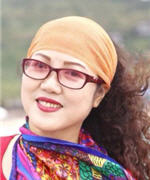 三色堇,本名郑萍,山东人,写诗,画画,现居西安。中国作家协会会员。陕西省文学院签约作家。获得"天马散文诗奖","中国当代诗歌诗集奖","杰出诗人奖",《现代青年》"十佳诗人"等多项。有作品刊发于多种期刊与选本。出版诗集《南方的痕迹》《三色堇诗选》《背光而坐》,散文诗集《悸动》等。
San Sejin (Pansy), born in Shandong Province, is a poetess and painter, her original name is Zheng Ping. She is a member of Chinese Writers Association, contract writer of Literal Art College of Shaanxi Province. She now lives in Xi'an. She won the "Tianma Prose Poetry Prize", "Chinese Contemporary Poetry-Collection of Poems Prize", "Prominent Poet Award", "Top Ten Poets" of Modern Youth, etc. She is the author of Southern Traces, Selected Poems of San Sejin, Backlight and Sit, and prose poems Restless.


译者
Translator
张智中
Zhang Zhizhong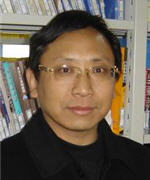 张智中(1966— ),河南博爱人。南开大学典籍翻译及译论研究方向博士,河南大学诗歌翻译博士后。现为天津师范大学翻译研究所所长、外国语学院教授,硕士研究生导师。《世界诗人》季刊客座总编,国际诗歌翻译研究中心副主席。出版编、译、著80余部。获第十五届全国韩素音青年翻译征文(汉译英)优秀奖、第二届"蔡丽双博士-世界诗歌奖-杰出翻译家奖"和中国当代诗歌奖(2000—2010)翻译奖等。
Zhang Zhizhong (1966-), translator, poet and scholar. His ancestral place is Bo'ai County of Henan Province. He earned a doctor's degree in translation studies from Nankai University, and he has done his postdoctoral study in aesthetics of poetry translation at Henan University. He is now director of Translation Studies Center of Tianjin Normal University, and professor of Foreign Languages College of Tianjin Normal University, guest editor of The World Poets Quarterly and vice chairman of International Poetry Translation and Research Centre. He has published over 80 books. In 2003 he won Excellence Award in the 15th National Translation (Chinese-English) Competition for Youth Sponsored by Han Suyin; In 2006 he won the Prize for Distinguished Translator in the 2nd World Poetry Prizes Sponsored by Dr. CHOI Laisheung. In 2011 he won the Translation Prize of "Contemporary Chinese Poetry Prizes (2000-2010)."




这么多年,我一直瞩目向东的海
那片辽阔的海域有着诗经的光芒

宏阔的海面,潮烟不舍昼夜替我醒着
一浪高过一浪的拍击,在悲喜交集中相遇

它是我的故乡,我却难以抵达那乡愁的潮涌
在西部,我一直携着蓝色的梦,倾听它有力的轰鸣

我无法在下一个潮汛来临之前波澜不惊
无法搁置它一直向东的倔强的信仰

在异乡失序的我总是向东眺望
从开始渴望的倾诉到写下这首诗

我宿命的海,收藏着闪电的海,携带着辉光的海
让我魂牵梦绕的海,向死而生的海……

这必定是我一个人的疆域,我进入它的内部
向东,向东,泪水忽然就涌了出来
			




For so many years, I have been watching the eastward sea
The expansive sea area is bright with the ray of Book of Poetry

The boundless sea-surface, the tidal waves are awake for me day and night
Lashing waves upon waves, meeting in the gamut of emotions

It is my hometown, but it is difficult to reach the surging tide of nostalgia 
In the west, I always bring a blue dream, listening to its forceful roaring

I cannot remain calm before the arriving of the next tide
I cannot shelve its stubborn eastward faith

Disordered in a strange land, I always look eastward
From the original yearning outpouring to this poem

My fated sea, the sea which collects lightning, the sea with brilliance
The sea which makes me lost in a reverie, the sea which was born toward death …

This must be my own territory, and I enter its interior
Eastward, eastward, tears suddenly streaming down