R.S. Gwynn
R.S. 戈温

R.S. Gwynn has published six collections of verse and has edited a number of anthologies. He is a retired professor of English at Lamar University.
R.S. 戈温已经出版了六本诗集,并编辑了许多选集。他是拉马尔大学的退休英语教授。


译者
Translator
星子安娜
Anna Yin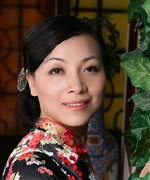 星子安娜是加拿大密西沙加市首任桂冠诗人,已出版六本诗集,英文诗荣获2005 年安省的TedPlantos纪念奖,2010/2014 MARTRY文学奖以及2016/2017年获西切斯特大学诗歌大会奖学金和安省艺术协会奖金。她的诗歌在Arc Poetry、《中国日报》、《世界日报》和CBC电台发表。她也在学校教授诗歌。
Anna Yin was Mississauga's Inaugural Poet Laureate and has authored six books of poetry, including Wings toward Sunlight and Seven Nights with the Chinese Zodiac. Anna won the 2005 Ted Plantos Memorial Award, two MARTY Awards etc. Her poems appeared in Arc Poetry, China Daily, World Journal and CBC Radio. She teaches Poetry Alive at schools in Canada.




I dream a lot at night, a lot by day.
Time has no meaning here, where I forget
To mark the hours, where I sometimes let
Whole weeks go wandering freely on their way.

Yet even dreams keep count of moments flying,
For when the bolt slides in my window and
The bowl of soup is thrust into my hand
And I prolong my life to keep on dying.

Then I discover, shaken from my dream,
How one feels at the end, who has been bound
And set adrift above the thunderous sound

Echoing from Niagara. In midstream
The water hammers at his dinghy's side.
The current surges on. His hands are tied.
			




夜晚我梦想无数,白天也一样。
时间在这里没有意义,我忘记
标记时间,有时会让整个星期
都在路上自由自在徘徊游荡。

可是即使在梦中我还在算记
那些时刻,当窗门被螺栓栓上,
而塞进我的手里的一碗碗汤
让我延长了生命,继续垂死。

然后颤抖着从梦中我发现
一个人临终的感受,那约束
并置于漂浮雷鸣之上的感触

与尼亚加拉瀑布呼应。河流中游
流水在他的小艇一侧不断锤击。
激流澎湃。他的双手被紧紧缚系。