涂映雪
Tu Yingxue

涂映雪,笔名冰梦,福建省作家协会会员,福建省楹联协会常务理事。作品见于《诗刊》《福建文学》《青春潮》《海峡诗人》等刊物,作品入选《中国最美爱情诗选》《中国实力诗人诗选》及《2010-2011年度福建优秀诗歌选》。个人诗集《冰之梦》(2012年)由中国文联出版社出版。
Tu Yingxue, penname Bing Meng, member of Fujian Writers Association. Her poetry has been published in Poetry Periodical, Fujian Literature, Youth Tide, Strait Poet, etc. Her poems were also published in The Most Beautiful Chinese Love Poems, Anthology of Best Fujian Poems 2010-2011. Her book of poetry Dream of Ice was published in 2012.


译者
Translator
陈奕肖
Chen Yixiao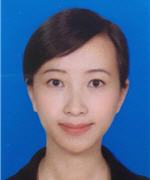 陈奕肖,现居上海,2013年毕业于伯明翰大学,现从事银行业。
Chen Yixiao, resides in Shanghai, graduated from University of Birmingham in 2013.




在季节的末端  伫立
桃花已经逃离
凋落在斜阳深处

凝眸处
你把厚重的史书
裁成一缕缕的白雾
自千尺潭底升起  将离殇托举
于岁月之上

此时
白鹤鸣曲
垂柳跳着霓裳羽衣舞蹈
云朵从千年以外赶来
探出万重山峦
与岸相握

划一叶瘦瘦的扁舟  青袂翩跹
自青弋江逆流而上
穿过唐朝的墙
打捞诗仙遗落的
墨痕

风起  渡口
把洇湿的梦
倾入万頃碧波   一只蜻蜓
自潭雾里   飞出
扇动了一记翅膀

云的彼端
清冽的泾水  从你的笔锋
淌下  凝成了
一粒青青的桃
			




At the end of the season
The peach blossom has fled
Falling deep in the setting sun

At a glance
You trim the history book into a wisp of rime fog
Rising from the bottom of The Thousand Feet Pool
On top of the time and tide

At this moment 
White Cranes sing songs
The weeping willow dance in their neon-colored and feathered clothes 
Clouds come from a thousand years ago
Getting wind of the love of the myriads of mountains 
Griping to the shore

Row a thin boat, dances trippingly in green dress 
Upstreaming from the Qingyi River
Passing through the walls of the Tang Dynasty
Salvage the ink stain left by the Fairy Poet

Wind up
The ferry pours down the soaked dream into the vast expanse of water 
A dragonfly
Flies off from the fog in the pond 
Incites a wing

The other side of the cloud
Clear tributary trickles down from the tip of your pen
Congealing into a green peach