月色江河
Yuese Jianghe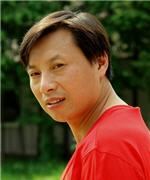 月色江河(1963-),本名张晓林,江苏淮安人。当代诗人、文学评论家。著有文学评论集《淮安文学批评与研究》,诗集《迟到的玫瑰》《七星瓢虫》等。主编过多种诗选。作品收入《江苏百年新诗选》等数十种选本。曾获"大好河山"中华全国诗文联赋大赛暨徐霞客文学奖(2016)、第六届江苏文学评论奖(2017年)等。代表作有《桑园路》《父亲也是一位工人》,长诗《一个正在消逝的村庄》等。
Yuese Jianghe (1963-), originally Zhang Xiaolin, was born in Huai'an, Jiangsu. He is the author of Huai'an Literature Criticism and Research and two books of poetry Late Rose and Ladybug. He edited a number of poetry anthologies. He won the "Magnificent Rivers and Mountains" Poetry Prose Couplet Ode Contest of China and Xu Xiake Literature Award (2016), and the Sixth Session of Jiangsu Literature Criticism Award (2017). His representative works include Mulberry Field Road, My Father is Also a Worker, and A Fading Village.


译者
Translator
苏菲
Sophy Chen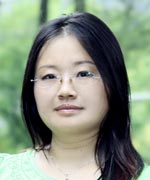 苏菲, 本名陈丽华。1975年生于陕西汉中略阳。毕业于西安外国语大学英文学院,英语语言文学硕士,在外语类院校任教至今。现为国际诗歌翻译研究中心研究员、混语版《世界诗人》季刊客座总编、中国翻译协会会员。1989年开始汉语诗歌写作,2004年开始英文诗歌写作,并在各大报刊发表英汉双语诗歌和英汉双语诗歌翻译作品。获IPTRC颁发的2012年度国际最佳翻译家奖。出版英译诗歌集《花动摇》(赵兴中原著)、《藏香》(女诗人紫影原著)。
Sophy Chen, whose Chinese name is Lihua Chen, was born in 1975. She was born in Lueyang County, Hanzhong City, Shanxi Province of China. She graduated from English Institute of Xi'an Foreign Studies University in English Literature. After her post-graduate graduation, she teaches English in a foreign language institute till now. She is now the researcher of the International Poetry Translation and Research Center, the guest editor of The World Poets Quarterly (Multilingual) and the member of the Translators Association of China. She won the annual "International Best Translator" Award 2012 issued by IPTRC. She has translated two Chinese poetry collections into English.




在我之前,桑园路没有桑树
在我之后,桑园路还是没有桑树
桑园路和桑树没有关系
只和我爱有关

桑园路不长,一次在劫难逃的相遇
让幽暗的路灯靠近了月色
满袖的春风,牵动着我的浪漫
把你的长发缠绵成爱的重量

一路走来,桑园路有点清冷
一棵孤零的小树
已找不回那个熟悉的身影
只留下一条空旷
让我这么多年来,一直忙于疼痛
			




Before me, on this Mulberry Field Road there were no mulberry trees
After me, on this Mulberry Field Road there will still be no mulberry trees
Mulberry Field Road has nothing to do with mulberry treesIt's only related to my love

Mulberry Field Road isn't long, one time a doomed encounter
Made the gloomy street lamps touch the moonlight
My excitement and happiness encouraged my romance
It lingered in your long hair, weighted with love

Along the way, it was a bit cold on Mulberry Field Road
A lonely small tree
A familiar silhouette I cannot find
Leaving only an empty void
Causing me such pain, for so many years