Sangeeta Gupta
桑格塔-古普塔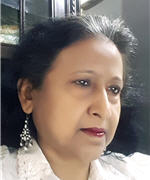 Sangeeta Gupta (B. Sc, M.A, L.L.B), born at Gorakhpur, U.P. in 1958, is a highly acclaimed bilingual poet, artist and film maker. Presently working as Advisor (finance & administration) to Lalit Kala Akademi, National Akademi of visual arts. She has 35 solo exhibitions of paintings, 20 published books, and 7 of her poetry collections are translated into several languages. She has directed, scripted and shot 7 documentary films, which are all in the collection of Library of Congress of USA. She has obtained a number of awards home and abroad.
桑格塔·古普塔(理学学士,工商管理硕士,文学硕士),1958年生于北方邦戈勒克普尔。印度享有声誉的双语诗人,艺术家和电影制片人。现任国家视觉艺术学院,拉利特卡拉学院金融与管理顾问。在世界各地举办近四十场个人绘画展览,出版文集二十余种,其中七本译成外语。导演,拍摄,编剧七部纪录片,被美国国会图书馆收藏。多次获国内,国际诗歌奖。


译者
Translator
杨于军
Yang Yujun
1965年生于北京,现居广东。1986年开始在《诗歌报》《星星》《人民文学》等发表作品。迄今写作、翻译九百万字,入选各类文集。出版个人中英文诗集《冬天的花园》,《拿鼠标的手变凉了》。
Yang Yujun was born in Beijing in 1965 and now lives in Guangdong. Her poems first appeared in 1986 in newspapers and magazines such as Poetry, Poetry Stars, Poeple's Literature, etc. She has written and translated various works totaling 9 million words, published in various anthologies. Her collections of Chinese and English poems include Garden In Winter, The Hand on The Mouse Is Turning Cold.




In isolation
weave the silence
?hear the melody of the breeze
talk to your plants
?gaze at yourself in the mirror
?read the script of time on your face
reflect on your journey so far
?dare to remember those
?who broke your heart
and scared you of love forever
cook for your loved ones
compose lullaby
for your grand children
?who will be born someday
?look at the stars
who were waiting for
your intense glance forever
do nothing for a change
?enjoy the uncertainty of life
?accept your vulnerability?
the corona virus is
not in your control
now you know
your strength and weakness
?heal yourself and
?heal the earth
today let the earth
?be celebrated
as never before
?today is Earth Day.			




隔离中
编制静谧
听微风的音律
和你的花草交谈
看镜中的自己
读时间在你面容上的注解
回到曾经的旅程
勇于记起那些伤害你
让你不敢再爱的人们
为你爱的人们煮食
为将来某天要出生的孙子孙女谱写摇篮曲
看星星
他们一直在等待你更认真注视
部位改变而做什么
享受生活的不确定
接受你的脆弱
新冠病毒无法控制
现在你知道你的强项和弱点
治愈自己
治愈地球
今天让地球
被祝福
以簇新的仪式
今天是地球日