郑小琼
Zheng Xiaojqiong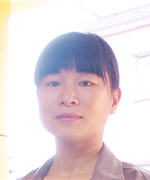 郑小琼:女,1980年6月生,四川南充人,2001年南下广东打工,有作品散见于《人民文学》《诗刊》《独立》《活塞》等。迄今出版诗集《女工记》《玫瑰庄园》《黄麻岭》《郑小琼诗选》《纯种植物》《人行天桥》等十二部,其中《女工记》被喻为"中国诗歌史上第一部关于女性、劳动与资本的交响诗",有作品译成德、英、法、日、韩、西班牙语、土耳其语等语种。诗歌曾多次获奖,曾参加柏林诗歌节、鹿特丹诗歌节、珀斯作家周、土耳其亚洲诗歌节、不莱梅诗歌节、新加坡国际移民艺术节等国际诗歌节,其诗歌在被多次被国外艺朮家谱成不同形式的音乐、戏剧在美国、德国等国家上演。
Zheng Xiaoqiong was born in June 1980, in Nanchong, Sichuan Province. In 2001 she went to work in Guangdong. Her poetry has appeared in various literary magazines such as People's Literature, Shikan, Independence, Piston, and others. She has published twelve books of poetry, including Women Migrant Workers, The Rose Manor, Jute Ridge, Selected Poems by Zheng Xiaoqiong, etc. Women Migrant Workers was referred to as "the first collection of symphonic poems about women, labor, and capital." It has been translated into German, English, French, Japanese, Korean, Spanish, Turkish, and other languages. It has won a number of awards. She has read her poems at poetry festivals, such as the Berlin Poetry Festival, Rotterdam International Poetry Festival, Perth Festival Writers Week, Turkey Asian Poetry Festival, Bremen Poetry Festival, and International Migrant Arts Festival in Singapore. Some poems from Women Migrant Workers were performed in the theatre and at concert in the United States and Germany.


译者
Translator
周筱静
Zhou Xiaojing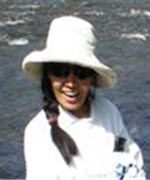 周筱静是太平洋大学的英文教授。 她翻译的郑小琼诗歌发表于《今日中国文学》,《前沿: 全球亚洲研究》和《象征:当代文学杂志》,以及网络诗歌期刊 《空镜》和 《诗国际》。她译的其它郑小琼诗歌曾收录于《环球南方的生态批评》评论集和《活跃读者: 听众在场的诗歌》选集。
Zhou Xiaojing is Professor of English at University of the Pacific. Her translations of poems by Zheng Xiaoqiong have appeared in Chinese Literature Today, Verge: Studies in Global Asias, Pratik: A Magazine of Contemporary Literature, and online poetry magazines Empty Mirror and Poetry International. Her translations of Zheng's poems are also included in anthologies such as Ecocriticism of the Global South and The Animated Reader: Poetry of Surround Audience.




在铁的疼痛里
而我在生锈,我惧怕的那血腥的锈
正一寸寸地在我身体里散开
虫蚀般扩散,这些微红的颤栗
我需要的图纸,剪刀,机台,
生锈的爱与恨,我的心灵
为这些灰暗的铁计算着生活,热爱
方言,欲望,废弃已久的理想
时间正从另一边奔跑,它跨过
漫无边际的锈,它从远方
来来往往,却没有方向,它像迷茫的锈
在我的身体上开花,荒凉着 
			




In the aches and pains of iron 
I am being corroded, terrified of the bloody rust 
spreading on my body inch by inch
proliferating as if I'm worm-eaten, this reddish shudder.
The blueprints, scissors, machines I need,
rusted love, hatred, and my soul 
are designing life, devotion, dialects, 
desires, and familiar ideals for the sake of iron.
Time is running away, crossing
boundless rust, moving 
in distance, yet directionless, like the aimless rust
blooming on my body, hollow and desolate.