A. E. Stringer
A. E. 史特林格

A. E. Stringer is the author of Human Costume and Channel Markers (Wesleyan University Press). His work has appeared in such journals as The Nation, The Ohio Review, Denver Quarterly and many others. He has recently edited and introduced a new edition of Louise McNeill's classic Appalachian poetry collection Paradox Hill (West Virginia University Press, 2009). He has travelled to read his work in a wide range of American locales and also in Galway, Ireland. For the past twenty years, he has taught writing and literature at Marshall University in Huntington, West Virginia.
A. E. 史特林格是诗集《人性的外衣》《航标》(卫斯理大学出版社)的作者。他的作品发表于《国家》,《俄亥俄评论》,《丹佛季刊》以及其它多种刊物。他近来编辑了路易斯.麦克尼尔的新版古典阿巴拉契亚诗集《诡异的山丘》(西弗吉尼亚大学出版社,2009)并为之作序。他去过美国许多地区朗读他的作品,他的诵读之旅还包括爱尔兰的戈尔韦。最近二十年,他在位于西弗吉尼亚州亨廷顿的马歇尔大学讲授写作和文学。


译者
Translator
梁元
Yuan Liang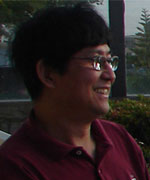 生于中国重庆,上小学时随父母移居上海。毕业于复旦大学,并分别在美国两所大学获得学位。诗天空诗人协会会员。著有诗集《四月的墙下》《时间的乡愁》《原始角落》《沉默的颜色》《抵达季节》和《太阳车轮》。现居南加州。
Yuan Liang was born in Chongqing, China. He moved to Shanghai with his parents while he attended elementary school. He graduated from Fudan University and holds graduate degrees from two American universities. He is a member of PoetrySky Poets Association and he has published a book of poetry Beneath the Wall of April (2009), Homesick of Time (2010), The Primitive Corner (2011), The Silent Color (2012), Arriving Season (2013), and Sun Wheel (2014). He lives in Southern California.




On the sidewalk some girls
have discovered ice
		spared
from the thaw by house shadow.
Out my north window: sudden
shrieks unhemmed.
		Nevermind
earrings and permanents, they
do not pass up the chance to
run and slide
		then turn
to see how far they've come.
Looking backward
		with pleasure
that briefly repeals
the laws of motion, they take
		a full measure.
			




人行道上几个女孩子
发现房屋影子下
  未融化
的冰
我的北窗之外:突然
传来放肆的尖叫
   毫不在意
耳环和发卷,她们        
可不放过这一机会去
奔跑和滑行
   然后转身
看看她们跑了多远
向后回望时
   怀着喜悦
这喜悦暂时废止了
运动原理,她们
   算足距离
			




Wire-slender, unabashed
heretic angel whose truth is not
to be conferred on the fools
the rest of us play, she can reign
as queen or go bedecked in rags,
the better to recline when blessed
sleep descends upon her highness.

Stretches awake, lifts a righteous
yawn to the pitch of false alarm.
Like the famous swallow she would fly
the continent: bones of wind, skin
like a thin wall through which
rage and love equally pass.  Or
gusto.  How she rattles her cage.
			




金属线般苗条,毫无掩饰
异端天使,她的真相
不会透露给
我们扮演的傻瓜,她作主持  
像个女王或装扮得衣衫褴褛
受祝福时最好躺卧
睡眠突然袭击她的高贵

醒来伸个懒腰,举起正义
朝假警报的音高打个呵欠
像只闻名的燕子,她将飞翔
这个大陆:风的骨骼,皮肤
像一堵薄墙,在那儿
怒与爱平等地通过。或者
兴致勃勃。她如何弄响她的笼子