Juan Felipe Herrera
胡安-菲利普-埃雷拉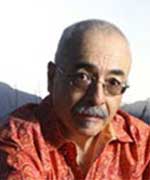 Juan Felipe Herrera is the first Latino writer who was named the U.S. poet laureate in 2015. He was the son of migrant farm workers and educated at UCLA and Stanford University. He also earned his MFA from the University of Iowa Writers' Workshop. His poetry collections include 187 Reasons Mexicanos Can't Cross the Border: Undocuments 1971-2007, Half of the World in Light: New and Selected Poems (2008), and Border-Crosser with a Lamborghini Dream (1999). In addition, he writes short stories, young adult novels, and children's literature.
胡安-菲利普-埃雷拉是荣获2015年美国桂冠诗人头衔的第一位拉丁裔作家。 他从小生活在季节农工的家里,曾在加州大学洛杉矶分校和斯坦福大学受过教育,并从爱荷华大学作家坊获得创作硕士学位。他的诗集包括《墨西哥人不能跨越边界的187个原因:1971-2007无文献》,《半边亮的世界:新诗和精选诗》(2008年),及《怀有兰博基尼梦想的越境者》(1999)。除了诗歌,他还从事短篇小说、青少年小说和儿童文学的创作。


译者
Translator
武庆云
Edna Wu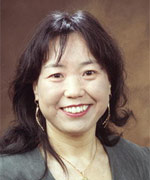 武庆云是《云雨情:中国到美国回忆录》、《伊甸园里俩夏娃, 男妈妈》和《单一鸟》的作者。她的主要学术与翻译著作有:《中英乌托邦文学中的女权统治》(1996年《选择》杂志杰出学术著作)、《繁华梦:王筠传奇》《第三只眼》、《远方有个女儿国》等。她是加州州立大学中文教授。
Edna Wu is the author of Clouds & Rain: A China-to-America Memoir, Two Eves in the Garden of Eden & A Male Mother, and A Single-Winged Bird. Her major academic and translation publications include Female Rule in Chinese and English Literary Utopias (A 1996 CHOICE Outstanding Academic Book), A Dream of Glory: A Chuanqi Play by Wang Yun, a novel about the Chinese People's Liberation Army: The Third Eye, and The Remote Country of Women. She is professor of Chinese at California State University, Los Angeles.




I am merely posing for a photograph.
Remember, when the Nomenclature 
stops you, tell them that—"Sirs, he was posing 
for my camera, that is all." . . . yes, that may just work. 

My eyes: 
clear, hazel like my father's, gaze across the sea, my hands at my side, my   
legs spread apart in the wet sands, my pants crumpled, torn, withered, my   
shirt in rags, see-through in places, no buttons, what a luxury, buttons, I   
laugh a little, my tongue slips and licks itself, almost, I laugh, licks itself   
from side to side, the corners of my mouth, if only I could talk like I used   
to, giggle under moonlight, to myself, my arms destitute, shrunken, I   
hadn't noticed, after so many years sifting through rubble stars, rubble toys,   
rubble crosses, after so many decades beseeching rubble breasts—pretend I   
came to swim, I am here by accident, 

like you. 

My face to one side. 
Listen to gray-white bells of rubble, the list 
goes on—the bones, hearts, puffed intestines, 
stoned genitalia, teeth, again I forget how 
to piece all this together, scraps, so many scraps, 
lines and holes. 

The white gray rubble light blinds me, 
wait, I just thought—what if this is not visible, 
what if all this is not visible. 

Listen here, closely: 
I am speaking of the amber thighs 
still spilling nectar on the dust fleece across Gaza, 
the mountains, the spliced wombs across Israel, Syria. 

The amber serums cut across all boundaries, 
they smell incense, bread, honey—the color 
of my mother's hands, her flesh, the shrapnel is the same color 
the propellers churn.
			




我只不过在为拍照摆姿势
请记住,当名份
阻止你时,告诉他们 ——"先生,他在为我的照相机
摆姿势,就这回事儿。"……对,没准能混过去。
 

我的眼睛:
清澈,榛褐色,像我父亲的那样,凝视着大海,我两手叉腰, 
双腿在湿沙中劈开,我的裤子皱巴巴,破烂,枯萎,我的
衬衫褴褛,大洞小洞无法遮体,没有纽扣。纽扣?太奢侈了吧。我
不禁笑了,舌头倒卷,差点,反舔了自己。 我大笑起来,
让舌头左舔右舔, 触摸嘴角。如果我还能像过去那样说话,该多好啊!
我在月光下,对着自己,咯咯傻笑,我的手臂荒废,干枯,我
竟没有注意到,经过那么多年的筛选碎石星,烂玩具,
瓦砾十字架,经过几十年来的寻求废墟乳房——假装自己来
游泳的,我在这儿却是偶然,

跟你一样。

我把脸偏向一边,
聆听着灰白色瓦砾的钟声,一连串地响——
骨,心,膨张的肥肠,
石化的生殖器,牙齿,我又忘了怎么样
把所有这一切,废料,串在一起,这么多的废料,
线和孔。

灰白色的瓦砾光使我失明,
等等,我刚想——如果这是看不见的,
如果所有这一切都不可看见。

听,请留心:
我说的是琥珀大腿
仍从横穿加沙的风尘羊毛里溢出的瓊漿玉液,
山,横穿以色列、叙利亚而拼接起来的盆腔。

琥珀般的血清切过所有的边界,
散发出香料,面包,蜂蜜的芳味——颜色
如母亲的手,肉体,弹片是同样的颜色
螺旋桨旋转。

注:这首诗转载于"《半边亮的世界:胡安·菲利普·埃雷拉的新诗和精选诗》,
亚利桑那大学出版社。