西川
Xi Chuan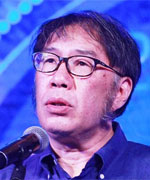 西川,诗人、散文和随笔作家、翻译家,1963年生于江苏,1985年毕业于北京大学英文系。曾任美国纽约大学东亚系附属访问教授(2007)、加拿大维多利亚大学写作系奥赖恩访问艺术家(2009),现为北京中央美术学院人文学院教授、图书馆馆长。出版九部诗集诗文集,其中包括《深浅》(2006)和《够一梦》(2013),另出版两部随笔集、两部评著、一部诗剧。曾获鲁迅文学奖(2001)、上海《东方早报》"文化中国十年人物大奖(2001-2011)"、腾讯书院文学奖致敬诗人奖(2015)、德国魏玛全球论文竞赛十佳(1999)等。其诗歌和随笔散见多种选本和二十多个国家的报刊杂志。出版英译《蚊子志:西川诗选》(纽约新方向出版社,2012)。该书入围2013年度美国最佳翻译图书奖并获美国文学翻译家协会2013年卢西恩-斯泰克亚洲翻译奖等。
Xi Chuan is a Chinese poet, essayist and translator. Born in 1963 in Jiangsu province, he graduated from the English Department of Peking University in 1985. Previously a visiting adjunct professor at New York University (2007), and an Orion visiting artist at University of Victoria, Canada (2009), he is currently professor of Chinese literature at the Central Academy of Fine Arts in Beijing. Xi Chuan has published nine collections of poems, including Depth and Shallowness (2006) and A Dream's Worth (2013), two books of essays and two books of critical writings. His awards include National Lu Xun Prize for Literature (2001), Cultural China—Person of the Decade (2001-2011) by Shanghai Oriental Morning Post. He was also one of the top ten winners of the 1999 Weimar International Essay Prize Contest, Germany. His work has been widely anthologized and translated and published in more than twenty countries. His book of poems in English translation Notes on the Mosquito: Xi Chuan /Selected Poems (tr. Lucas Klein) published by New Directions, New York, 2012, was awarded ALTA's 2013 Lucien Stryk Asian Translation Prize and was shortlisted for American 2013 Best Translated Book Award.


译者
Translator
Pascale Petit
帕斯卡尔-帕蒂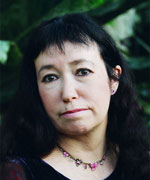 Pascale Petit is a UK poet. She was born in Paris, grew up in France and Wales and lives in Cornwall. She is of French/Welsh/Pakistani heritage. She has published six poetry collections. Her sixth collection Fauverie was shortlisted for the 2014 T S Eliot Prize. Five poems from the book won the 2013 Manchester Poetry Prize. Her fifth book What the Water Gave Me: Poems after Frida Kahlo was shortlisted for both the T S Eliot Prize and Wales Book of the Year, and was a Book of the Year in the Observer. She has had three collections chosen as Books of the Year in the Times Literary Supplement, Independent and Observer. She received a Cholmondeley Award in 2015.
帕斯卡尔-帕蒂是一位英国诗人,1953年生于法国巴黎,在法国和和威尔士长大,现居英国康沃尔。出版过6部诗集。曾获2013曼彻斯特诗歌奖等多项诗歌奖并两次入围T.S.艾略特诗歌奖。




枕头的褶皱压在皮肤上。小虫子的小爪子在皮肤上留下印迹。拔
火罐从皮肤:之下拔出血点。有毒的血点。

皮肤。我寂静的表层。我这不曾遭受过酷刑的皮肤,幻想着酷刑,
就进入了历史,就长出了寂静的庄稼:我这了无历史感的汗毛。

山水画在皮肤上。地图刺在皮肤上。纳粹的人皮灯罩。乔叟时代
英格兰的图书封皮用少女乳房的皮肤制成。

沙发,以牛皮为自己的皮肤,却不具有那死去动物的灵魂。每一
次从牛皮沙发上站起,我总是忍不住牛鸣三声。

她的皮肤遇到了花朵:杨玉环。她的皮肤遇到了冰:王昭君。那
些我永远无法遇到的皮肤,我只是说说而已。

但当我注目我潜伏着血管的皮肤,我也就看见了你清凉在夏季的
皮肤。但我还想看见你的骨头。

无耻的骨头,裹着雅洁的皮肤,遇到什么样的皮肤它就会瞬间变
得像骨头一样无耻?只有面颊懂得害羞和尴尬。

放大镜下皮肤的纹理。穿衣镜中皮肤的灰暗。麻子、痦子、疣子、
鸡皮疙瘩。皮肤只将命运表达给能够读懂命运的人。

我的皮肤内装着我的疾病、快乐和幽暗。我的幽暗是灯光不能照
亮的。

永久的七窍。临时性伤口。疼的皮肤。藏起来的皮肤。长在里面
的皮肤。失去神经末梢的皮肤。死人的皮肤。

据说鬼魂没有皮肤也东游西逛。

据说太空人用皮肤来思想。

你用皮肤向我靠近,或者我用皮肤感受你的颤抖。我说不准你是
否想要揭下我的皮肤去披到狼或者羊的身上。
			




Pillow creases on skin. The tiny feet of insects have left 
their prints – poisonous bloodspots medicinally sucked out. 

Skin – my silent surface. This skin of mine has never 
experienced frenzied torture so it dreams of frenzied torture 
and thus slips into history. Then grows a silent crop: hairs 
without a sense of history.

Landscapes on skin. Maps with pins. A Nazi lampshade made of 
human skin. English books bound from girls' breasts in 
Chaucer's time.

A leather sofa doesn't have the dead cow's soul. But each time 
I get up from it I can't help mooing three times.

Consort Yang Yuhuan's skin touched flowers. Concubine Wang 
Zhaojun's skin touched ice. I have never met these skins so 
can only talk about them.

When I stare at my skin with its buried veins I also see your 
skin in a cool summer but can't see your bones.

Shameless bones coated with graceful skin. What makes graceful 
skin shameless as bones? Only cheeks get shy and embarrassed.

Skin lines under a magnifying glass. Skin's greyness in the 
wardrobe mirror. Pockmarks, blackheads, freckles, goose bumps. 
Skin only speaks to those who read fortunes.

My skin contains my sickness, happiness and my darkness, which 
can't be illuminated by any light.

I have seven perpetual gates and temporary wounds. Sore skin and 
dead skin without nerve tips, corpse-skin. It's said that ghosts 
wander without skins. It's said that aliens think with their skins.

You approach me with your skin, or my skin can feel yours 
shivering. I'm not sure whether you want to flay me and put my 
skin on a sheep or a wolf.