大可
Da Ke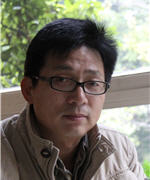 大可,本名 聂世奇,中国作家协会会员。作品曾刊《星星诗刊》《诗歌月刊》《诗选刊》《诗潮》《绿风》《天津文学》《山东文学》等文学期刊。著有诗集《思念随风》等。
Dake, real name Nie Shiqi, is a member of the Chinese Writers Association. His works have been published in Star Poetry Journal, Poetry Monthly, Poetry Anthology, Poetry Wave, Green Wind, Tianjin Literature, Shandong Literature and other literary journals. He is the author of a collection of poems entitled Thoughts Follow the Wind.


译者
Translator
聂若然
Nie Ruoran
聂若然,女。澳大利亚某大学研究生毕业。喜欢文学,音乐。
Nie Ruoran, female. She graduated from an Australian university. She likes literature and music.




春天又向前移动了十五公分
一只昆虫顺着那根藤条,向上爬
从生命的低处
带着温度,向上爬
太阳越升越高
向上,爬进时间的高处

手机猛然震动起来,才知道
你已到达南方的一座城市
			




Spring moved forward another fifteen centimeters
An insect follows that vine and climbs upward
From the lower part of life
With warmth, climbing upwards
The sun rises higher and higher
Upward, climbing into the heights of time

The phone vibrates violently and I realized
You already reached a city in the south