古月
Gu Yue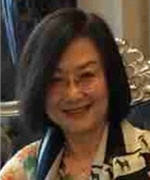 古月,《创世纪》诗杂志社长。曾获中国文艺学会优秀青年诗人奖。荣获世界诗人大会第四十届桂冠诗人奖。诗作入选广州《花城出版社》出版的《水仙花的心情》和湖南文艺出版的《台湾女诗人三十家》。诗集:《追随太阳步伐的人》、《月之祭》绢印专辑、《我爱》《古月短诗选》中英对照。(北京中国文联出版社书名《浮生》、台湾三采出版社书名《探月》出版)、《巡花筑梦》。散文:《诱惑者》一一当代艺术家侧写。 传记:《九边处处蹄痕一一先烈吴禄贞传》。
Gu Yue (real name Hu Yüheng) was born in Hengshan of the Hunan Province in China. She is the President of Epoch Quarterly poetry magazine in Taiwan. She was a recipient of the Outstanding Young Poet Award from the Chinese Artists and Writers Association of Taiwan. Her works were included in Mood of the Lotus published by the Huacheng Press from Guangzhou (China), and 30 Women Poets from Taiwan published by the Hunan Press for Arts and Literature. Her poetry collections include: In the Footsteps of the Sun, Sacrifices to the Moon (special edition printed on silk), I Love, Selection of short poems from Gu Yue (in Chinese、 English and Francs), Visit to the Moon by Sancai Publishing in Taiwan (published as My Life by the Beijing Writers Association), and Building Dreams from Flowers. She also published Seducers which is a series of portraits of contemporary artists, and Hoof Marks All Over, a biography of the Chinese national martyr Wu Luzhen.


译者
Translator
青峰
Albert Young
青峰是一位国际作家及诗人,1962年出生于台湾,先后在衣索比亚,美国,法国,加勒比海,中国,新加坡生活及工作,现长居瑞士。 青峰目前以中,英,法,德四种语言写作。他曾获得法国巴黎市政府颁发的最佳少年诗篇大奖。高中时,他曾代表法国最著名 Lycée Louis-le-Grand 参加全国写作大赛。他荣获2017—2018世界华文微型小说双年奖,2018年瑞士优纳市立图书馆徳语写作比赛奖,及2020年台湾中国文艺协会文艺奖章。他是美国世界艺术文化学院荣誉文学博士,世界诗人大会副秘书长及欧洲华文作家协会副秘书长。 他出版了四本诗集:《瞬间》,《感动》,《观》及《梦幻》。
Albert Young is an international writer and poet, born in Taiwan in 1962. He lived and worked in Ethiopia, the USA, France, the Caribbean, China and Singapore. He is now based in Switzerland. Albert writes in English, French, Chinese and German. He won a special prize from the city of Paris when in junior high school, and represented his senior high school, the prestigious Lycée Louis-le-Grand in Paris, in a French national writing contest. He was a winner of the 2017-2018 World contest of mini novels in Chinese, of the 2018 writing contest in German organized by the city library of Rapperswil-Jona in Switzerland, and a recipient of the Arts and Literature Award from the Chinese Artists and Writers Association from Taiwan.He holds an Honorary Doctorate degree in Literature from the World Academy of Arts and Culture, is the deputy Secretary General of the World Congress of Poets and of the Chinese Writers Association in Europe. He has published 4 collections of poetry: Moments, Emotions, Contemplation and Illusions.




夜潮如水    梦浮沉
细雨寒气薄    小雪无雪
有风落窗的声音
敲叩著孤独、寂寞及
氤氲如雾的平静
勾起了冰封的往事

万物蛰伏的季节
超越风雪的草原
篝火燃起了情山恨水
迸裂成眩光星焰绰影
脱离轨道的小雪
没有红泥炉暖酒
每一步都如履薄冰

记忆总在适时登埸
难以迴避的往事
似随风起舞的浪
千浔下    告白如泡沫
既华丽又颓废
火红火红地    偎来

今夜月色魅惑
愁人在西窗下    忆及
贡格尔草原的欢欲
正是一片飞来一片寒
一夜梦    走著走著
恍若路过千年
			




Tides in the night  dreams afloat
Rain drops in the cold  light snow
The wind is knocking on the window
Through the solitude, the silence
And a stillness as thick as the fog
To awake memories from the frozen past

In the season of hibernation
Beyond the wind and snow of the grasslands
A bonfire sets stories of love and hatred on fire
And explodes into dazzling stars
So that the light snow who has lost its track
Without the comfort of a red jar of warm rice wine
Has to carefully find its way

Memories always come back with such timeliness
Those things past are so hard to avoid
They are like waves whirled by the wind
Under thousands of waterfall  confessions are like bubbles
Beautiful yet dispirited
Full of fire and  approaching slowly

The captivating moonlight tonight
Reminds  the sorrowful
Of the desire from the grasslands
Like a sudden shivering cold
In a dream  that lasts
A thousand years